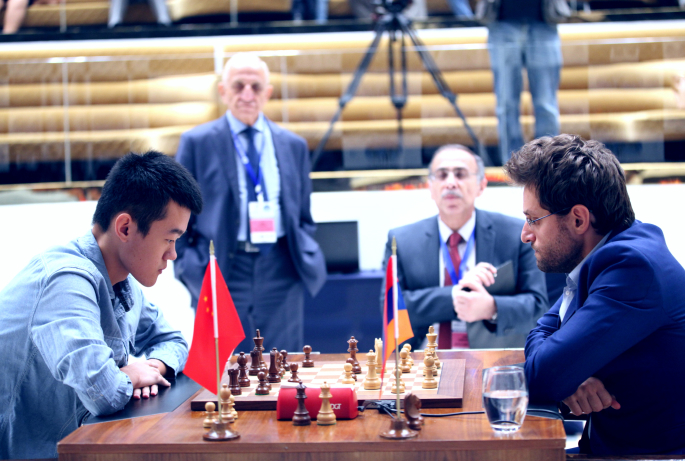 128 chess players and 80 officials will attend the World Cup in Khanty-Mansiysk
14 August — 2019
President of the Ugra Chess Federation Vasily Filipenko has informed that the Opening ceremony will take place at the Arts Center for Gifted Children of the North on the 9th of September, and the Closing ceremony will be held at the Ugra Chess Academy on the 4th of October.
The cultural program will include participation of the FIDE officials in opening an exhibition of children drawings at the Art gallery named after V.Igoshev and a new chess club in Khanty-Mansiysk and in the ceremony of donating chess sets to the Ugra municipal districts within the project "Ugra – a chess territory".
Besides, chess fans will have an opportunity to join an online tournament and a rapid chess tournament.
And competitions of the strongest international players will be organized at the Ugra Chess Academy, which will be equipped with additional lighting and furniture along with taking the necessary safety measures.
"Utair Air Company will be an official transport carrier of the competitions. Aeroflot Air Company will also be engaged to provide transfers. Khanty-Mansiysk's airport will operate under normal conditions. Guests and participants of the Cup will be met by 19 volunteers and transported by 11 buses" – Vasily Filipenko told.
The tournament participants will be accommodated in single rooms of Olympiyskaya Hotel, Yugorskaya Dolina Hotel Complex and Tarey Hotel with full board.
Players and FIDE officials will start arriving on the 6th of September. Deadline to request a visa invitation is August 22. There have been 79 invitations issued already.
It's worth to add that all the information about the competitions is available at the official webpage in two languages including a version for people with health limitations.
We remind that in 2019 Khanty-Mansiysk will host the FIDE World Cup for the fifth time. Levon Aronian from Armenia won the tournament in the capital of Ugra region in 2005, Gata Kamsky from the USA – in 2007, Boris Gelfand from Israel – in 2009, Peter Svidler from Russia – in 2011.
Aronian, Gelfand and Svidler have confirmed their participation in the World Cup in Khanty-Mansiysk.
A completed list of participants and a schedule of the first round are available at the official FIDE webpage.