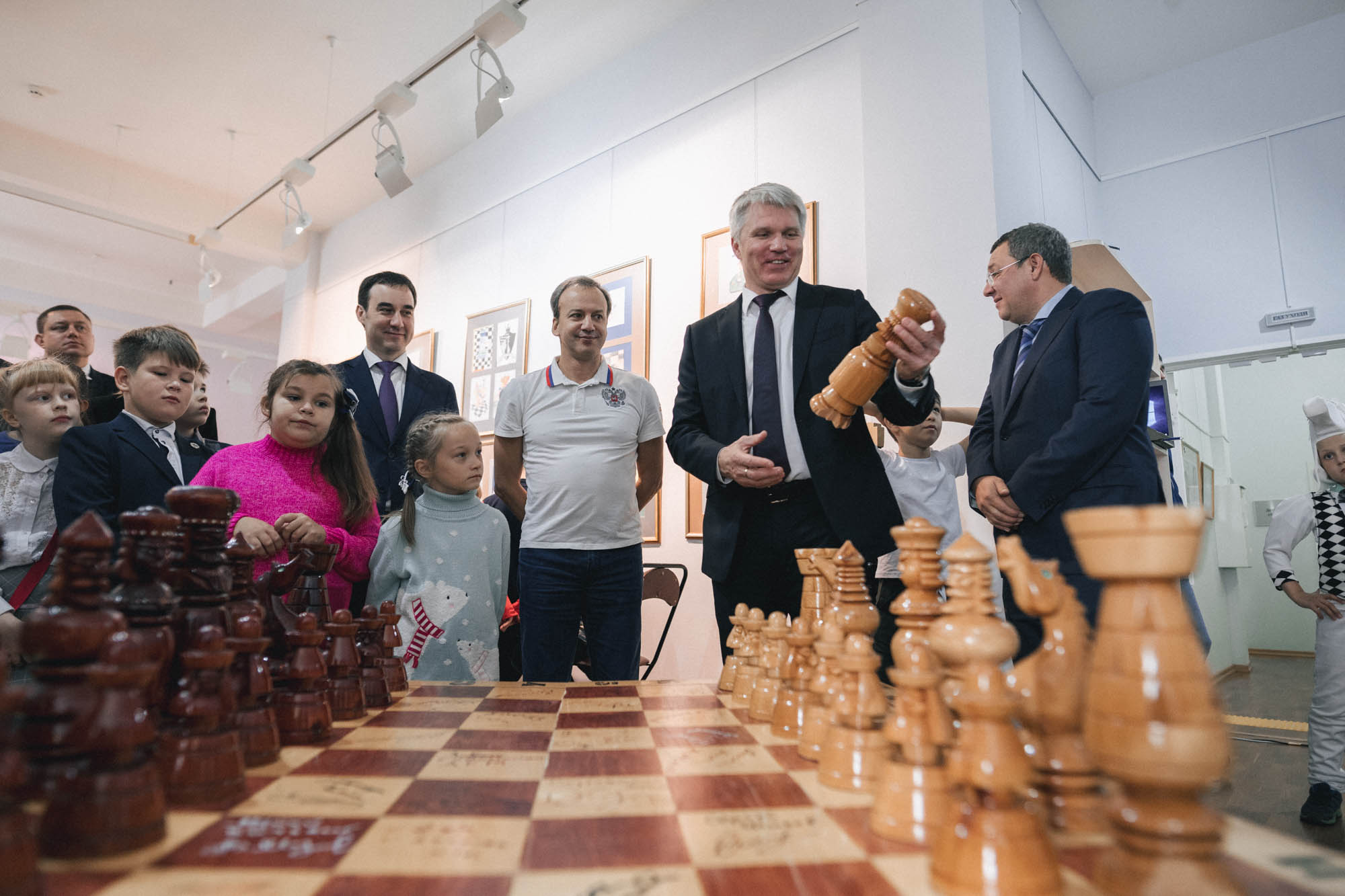 Pavel Kolobkov and Arkady Dvorkovich Visit Khanty-Mansiysk
09 September — 2019
Pavel Kolobkov, Minister of Sport of the Russian Federation, and Arkady Dvorkovich, President of the International Chess Federation, arrived in Khanty-Mansiysk to take part in the opening of the FIDE World Cup.
At the beginning of the day, the honoured guests had a business meeting with Natalya Komarova, Governor of Ugra.
Then Mr. Kolobkov and Mr. Dvorkovich visited the memorial house of V.A. Igoshev, People's Artist of USSR, which carries out a "Game of World" exhibition of children's drawings.
Arkady Dvorkovich and Pavel Kolobkov also inspected constructions sites for the 44th World Chess Olympiad, which will take place in Khanty-Mansiysk next year. They visited the construction site of the Olympic Village as well as various hotels that will accommodate participants and guests of the Olympiad.
At mid-day, the Regional information centre "Ugra" hosted a press conference with Pavel Kolobkov, Russian Minister of Sport, Arkady Dvorkovich, FIDE President, Vasily Filipenko, President of Ugra Chess Federation, as well as grandmasters Boris Gelfand and Sergey Karjakin.
The opening ceremony of the World Cup will be held in the Arts Center for Gifted Children of the North on September 9, at 7 pm local time. The draw of colours for Round 1 will take place during the ceremony.
The first games of the FIDE World Cup will be played on Tuesday, September 10.
The Ugra Chess Academy (Loparev street 6) is chosen as a playing venue.
Schedule:
Rounds 1-3 – September 10-18
Rounds 4-6 – September 20-28
Final and Match for 3rd place – September 30 – October 4
Rest days: September 19 and 29.
All rounds start at 3 pm local time.
The total prize fund of the tournament: 1,600,000 USD.
The competition is organized by the Government of Khanty-Mansiysk Autonomous Okrug – Ugra, International Chess Federation (FIDE), Ugra Chess Federation, and Ministry of Sports of the Russian Federation.
General partner – Gazpromneft-Khantos LCC.
Official airline – Utair.
Official partners of the competition: OJSC Rostelecom, Ugra Chess Academy, Russian Chess Federation, AB InBev Efes and PJSC Rosneft.
FIDE official partner – JSCo "RZD".
General media partner – News Agency TASS.
Media partners – Match TV, World of Chess social network, OTRK "Ugra", Ugra-news.ru, "News of Ugra" regional newspaper, "AIF-Ugra" newspaper.