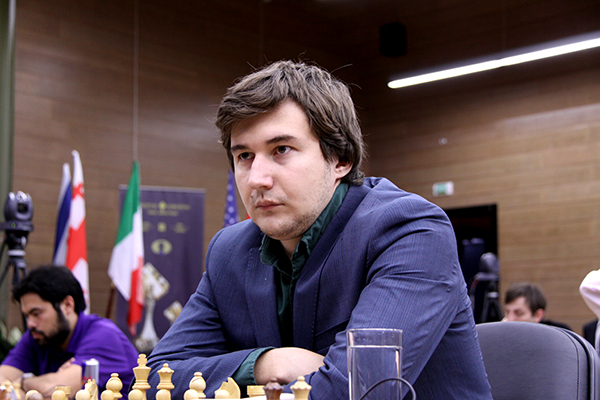 Sergey Karjakin: I once tried the bear meat in Khanty-Mansiysk
12 September — 2019
One of the frequent guests in Ugra's capital Russian grandmaster Sergey Karjakin gives an interview to the Press Centre after his winning in the first round of the FIDE Chess World Cup.
-What are the three words that you associate with Khanty-Mansiysk?
-First of all, hospitality. Then, I guess, cuisine and kind people. But I think they are all connected. For example, local hospitality is able to keep you warm from Siberian cold weather. Frankly speaking, I am not a winter fan as I was born and raised in Crimea but I really love coming here.
-Speaking of local cuisine, I know that you and your wife tried local food during one of your visits. Did you take muksun (a type of whitefish) to Moscow?
-it's a very tasty kind of fish. Me and my wife ate it almost every day here. We also visited local restaurant where national dishes were served. We didn't take anything home but I remember that we couldn't eat all and they put the bear meat in a take-away box for us.
-Taking into consideration all the tournaments, in total you spent 3 months in Khanty-Mansiysk, so you can be considered local in some ways. Can you recommend any things to do for other chess players and tournament guests?
-Firstly, the mammoths. The city center is also worth attention. But in general chess players do not have that much time as it may seem. We spend almost all of our time in a hotel room or at the playing hall.
-However, once during one of the tournaments you managed to plant a tree in our city. Have you already paid a visit to it?
-Yes, I did it yesterday. Everything is fine with the tree. It was my first experience in doing such things. Then my wife and I had a son and now my family lives in a good house so I can say I have fulfilled my man's mission (laughs).
-Money matter. In one of the interviews you hinted at the fact that football and hockey players earn much more money than top rating chess players. Do you believe it is unfair?
-I believe so. On one hand, it is fair to get big money for the most useful players who bring victories to the team. On the other hand, it is totally not, when players who spend most of the games on the bench during the season get millions. In this regard chess fall behind many kinds of sports.
-Let's talk about education. Do you support the idea of making chess into one of the compulsory subjects at school or is it enough to follow Ugra's example and teach chess optionally and upon request?
- In my opinion, Ugra's method is the most reasonable. You must not make people learn playing chess. At the same time, if kids would want to learn playing chess, they should have this opportunity. Khanty-Mansiysk is considered as one of Chess capitals for good reason as they were one of the first to start implementing chess in schools. Just look at the Chess Academy building. I think many would be jealous of it. I even told that to the governor of Ugra, Natalia Komarova.
-In conclusion, I'd like to ask about the most frequent question for you at interviews that annoys you.
-It's definitely the question about how I started playing chess (laughs). I know this story by heart and if you wake me up at night, I will tell it to you and fall back asleep.
-Thank you, Sergey and good luck at the Tournament!
-Thank you.