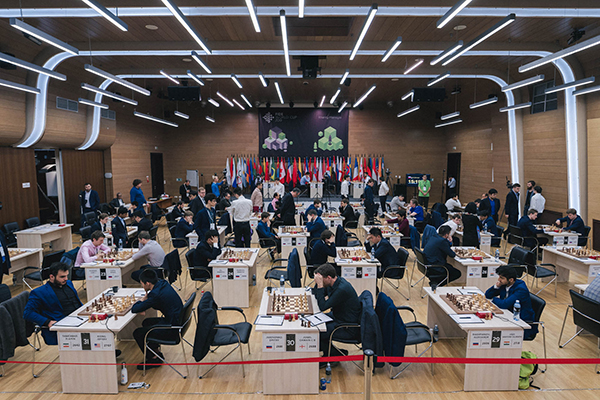 Vote for the best game of Rounds 1-2
15 September — 2019
An established jury of
Maxim Notkin
, Chief Editor of 64 Chess Review, Chairman,
Evgenij Miroshnichenko
, grandmaster and World Cup caster,
Vladimir Barsky
, Chief Editor of RCF Website, and
Leontxo Garcia
, commentator and a famous Spanish journalist, selected a shortlist of five
best games out of the first two rounds of FIDE World Cup.
Svidler-Albornos
A spectacular tactical duel! Up to a very last moment it wasn't clear which king is getting mated, however, the more experienced player demonstrated deep and accurate calculation and elegantly refuted Black's dangerous yet premature attack.
Firouzja-Dubov
"Yet this one, restive, quests for tempests". According to Dubov, this is his most spectacular loss ever. Daniil aimed at complications at all costs, voluntarily spoiling his pawn structure for dynamic play. The young Iranian grandmaster accepted the challenge. In a critical position, Firouzja sacrificed a piece, obtaining sufficient compensation – a passed pawn on the 7th rank. Black's attempt to rearrange his forces to survive was unsuccessful.
Sarin-Cori
The 15-year-old Indian teenager increased his positional advantage with impeccable technique, and finished the game in a very elegant manner – just like Karpov in the prime.
Mamedyarov-Kasimdzhanov
A brilliant attack by the grandmaster from Azerbaijan! He sacrificed two pieces in order to bring Black's king to the center, and then, combining attacking moves with threats to Black's queen, secured a decisive material advantage. White's play was fearless, resourceful, and required deep and accurate calculation.
Navara-Yuffa
Yuffa was defending during the first half of the game, but as soon as his opponent lost vigilance and made a slight error, the Russian found a petite combination, which gave him a stable positional advantage – a strong knight against a bad bishop. In addition, the white king's shelter was rather weak. Navara tried to carry out a pawn break on the queenside, but Yuffa skilfully denied him the counterplay. Black finished off the game with a direct and elegant attack.

You can vote for the game you like here.

The best game of Rounds 1-2 of FIDE World Cup is...
Games in pgn
It is to be reminded that the Brilliancy Prize was established by the Russian Chess Federation and AB InBev Efes company.